Research-based, multisensory strategies are the core of the Step Up to Writing program. The strategies are methods for accurately completing a task; taught with explicit instruction; learned through guided practice; and perfected with independent application. Step Up's strategies can be used in all subject areas to help students use, remember, and apply what they have learned.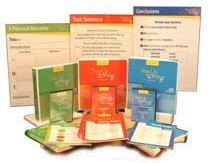 Step Up to Writing...A Great Investment!
Because Step Up to Writing materials, training, and strategies last a lifetime, they are your best investment for improving academic literacy skills of all students. Teachers who learn Step Up methods and use Step Up tools develop skills and lessons that can and will be used over and over again.
The initial cost of a Teacher's Set, divided by the number of students, makes Step Up a great buy. It is even a better buy when you realize that these materials and methods can and will be used for several years with hundreds of students.

A Great Investment
Learn About Products
For details on each product and author suggestions visit Step Up to Writing Program.
Purchase Step Up to Writing Products
Click here to purchase Step Up to Writing products directly from the publisher, Sopris Learning. You will be taken directly to the publisher's website.
Professional Development and Training
Sopris Learning also provides official professional development and training for schools and districts implementing the Step Up to Writing program. To learn more about professional development and training opportunities, please visit the Step Up to Writing Training webpage on the publisher's website.